by Kelley Austen
Every once in a while I catch myself missing that wandering Route 1, especially from Santa Barbara through Big Sur… until, that is, I did South Africa's Garden Route. What a different picture of Africa! Polo fields and beachside towns, towering evergreen forests and top-notch golf courses. It's what the locals do to get away, and isn't that often what we as travelers are searching for?
The Garden Route is about 400km along the southern coastline of SA, a few hours east of Cape Town. Starting in Mossel Bay and ending in Port Elizabeth, the region provides a stirring study in contrasts. You could spend a few days, or a few weeks exploring this meandering land of stunning landscapes and endless activities. Honeymoon road-trip post Cape Town… Family of 4 in search of adventure… Guys trip for golf, fishing, hiking… the Garden Route delivers. Invariably, you start in Cape Town (voted 2012 'Best Destination in the World' by TripAdvisor, and a blog unto itself). After 4 or 5 days exploring the city and vineyards you head east. Do be sure you're comfortable with the idea of driving on the left with a left hand drive car before embarking on the journey!
We recommend starting with the meandering Route 62 (modeled after the State's Route 66
actually) which delivers you to the fertile inland valley of Oudtshoorn in the sunny, mountainous Klein Karoo. If you are looking for 'Garden', you'll see it here, with over 500 types of succulents among the impressive fauna along the way. Cozy B&B's, famous Cango Caves, Ostrich Showfarm (and riding!), quiet nature reserves, meerkat tours, vineyards and fine dining. Try the 'Art, Cheese, Chocolate and Liquer Route', where you'll get acquainted with the local artisans who make this region delicious as well as gorgeous.
If your time is limited, you can skip Route 62, and fly directly into George and rent a car here. This delightful town, known as "The Gateway to the Garden Route", graces a coastal plateau in a fertile area of lush greenery at the foot of the Outeniqua Mountains.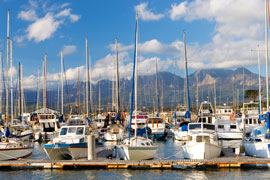 Now that you're connected with the coast again, head east along coastal Route 2 for a spectacular visual display: indigenous forests, golden beaches and bays to play in… dramatic bridges and cliffs dropping to the sea… colorful flowers that all connect the dotted coastal towns.
Knysa and Plettenberg Bay are perfectly charming beach towns with a classy, casual, boho vibe. You could base yourself here for a few days or so as there are so many activities to choose from: canoeing, whale watching, hiking in the closed-canopy forrest,
tour the valleys and lakes on the historic steam train, Knysna Elephant Park, Bird Sanctuary, Monkeyland, Adventureland, fantastic golf, catch a polo match on Kurland's picture perfect fields, Saturday craft market… to name a few.
Visitors flock to the Knysa Oyster Festival each year in July,

which incorporates both a half-marathon and cycle tour into the festivities as well as an Oyster and Wine Mardi Gras, with plenty to eat and drink over the two weeks. If you're traveling the summer, check out the Bottomless Barrel Wine Festival in George, or the Klein Karoo National Arts Festival in March in Oudtshoorn. 
For adventure seekers, choose skydiving, absailing, jump off the world's highest commercial bungee at the Bloukrans Bridge, canopy tours, or what about an epic overland hike, such as the Otter Trail? Everyone should experience the Tsitsikamma National Park, even if only a short hike to experience the spectacular views and mountain fynbos.
Finally, complete your trip with a good ol' African safari. The Eastern Cape truly does offer a fantastic game experience and is finding it's place on the international safari map. Lodges like world-class Kwandwe and and the intimate Hillsnek deliver the wildlife, first-rate service, dining and accommodations that you'd find in all of Africa's most popular destinations, and it's malaria-free. From Port Elizabeth, you catch an easy flight to Jo'burg and you're on your way, road warrior!